Life has been a bit crazy lately with the kitchen remodeling project, job hunting, etc. It took a several weeks to rip out and install the new tile floor, and it seems I have had a headache from paint fumes for more than a week.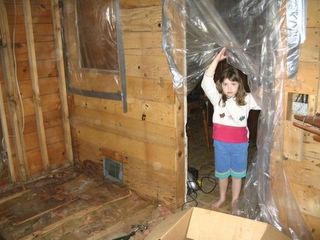 Kitchen Remodeling Project

What's new?
The biggest outrage from Bush Inc. is, of course, the opening up of all National Forest lands to roadbuilding, approximately 58 million acres. I can't express the level of sheer ecological criminality of this action. The damage will be felt for generations, unless a newly elected administration can reverse this decision.
I also have a press release here about federal prisoners in California being exposed to toxics from computer recycling operations. Not only are they being forced to work, they are being poisoned at the same time. (Capitalism necessitates a level of slave labor. Marx didn't write that, I did.) If you want to read this I'll email it to you, but I found it too vile to post.
An article picked up from Environmental Media Services about hybrid vehicles follows. I have no faith in hybrid technology. It's a band-aid over a gushing wound. The true solution lies in building carfree cities, where everyone - regardless of economic status - has the ability to walk or take public transportation. Like life was before Henry Ford was born. Policies that encourage growth of suburbs, with the addition of giant mega-store complexes and enormous parking lots, are the real problem. We need to encourage local legislators to create systems of redevelopment and redesign rather than new construction, systems that emphasize sustainable organic urban agriculture programs and locally owned businesses. You can read the hybrid article though, but I believe it is propaganda from the auto industry.
Keep reading kids, and thanks for keeping me on my toes. I've added a few new links, check them out.